PHOENIX- PetSmart has released surveillance photos of a man suspected of using a reflective pair of sunglasses to look at a victim in an adjoining bathroom stall last weekend.
The Phoenix Police Department is seeking the public's help in identifying this person. The suspect is described as a man, 30-35 years old, 5'11"-6'1" tall and 175-185 pounds.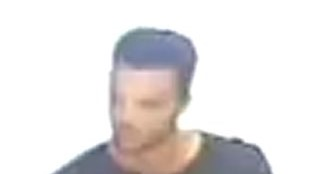 The victim, Jessica Ellis, said there were sunglasses in a pile of toilet paper on the floor of the women's bathroom. Ellis said she saw the man in the reflection of the lenses, masturbating in the stall next to her while watching her.
Police said anyone with information as to this suspect's identity should call Silent Witness at 480-948-6377 or 480-TESTIGO. Callers may remain anonymous and can receive a reward of up to $1,000 if the information leads to an arrest.