PHOENIX - It's an internet craze most people do in secret: Is there anybody you follow on Instagram and you know everything about them but you've never met them before?
Last week during a morning segment on the Johnjay and Rich radio show, Johnjay talked about the act of social-media stalking.
"There's a handful of people I Instagram stalk and I don't think I'm alone," he said.
Millions of people admit to doing it -- on a daily basis -- whether it's checking in on an ex or sometimes following the lives of people you've never actually met.
Instagram stalking is also known as social-media spying, lurking or creeping.
Urban Dictionary defines it as "a covert method, good for discovering a wealth of information about people you don't actually know."
"There's this guy I follow on Instagram -- I think he's a trainer," Johnjay said. "He's drinking all the time, he's staying up late all the time, he's going to concerts, football games. The guy has the most active social life ever."
He's a social media celebrity Johnjay never expected to see in real life … until recently.
"I'm at a red light and here comes the guy walking across the street and I'm like, 'Oh my God, there's James," Johnjay told his cohost with laugh.
He was asked what went through his head to say to James, the Instagram celebrity.
"Did you have fun at the game last week? Where did you get those camo pants you wore last September?"
That chance encounter left many of the show's listeners wondering if James (a.k.a. the coolest, most popular guy on the planet) actually existed.
He does.
"My friends are calling me and saying, 'Hey they're talking about you on the radio. You got to tune in,'" James Adams told 12 News.
Yes, that James.
So what did he think of being Instagram-stalked by Johnjay?
"It's not creepy at all," James said. "I'm flattered -- it's pretty cool. It's awesome."
After learning one of 12 News' reporters knew James, we helped the radio show's producers arrange a surprise meeting between the two.
The show's producers decided to blindfold Johnjay as he asked questions to try to identify a mystery guest.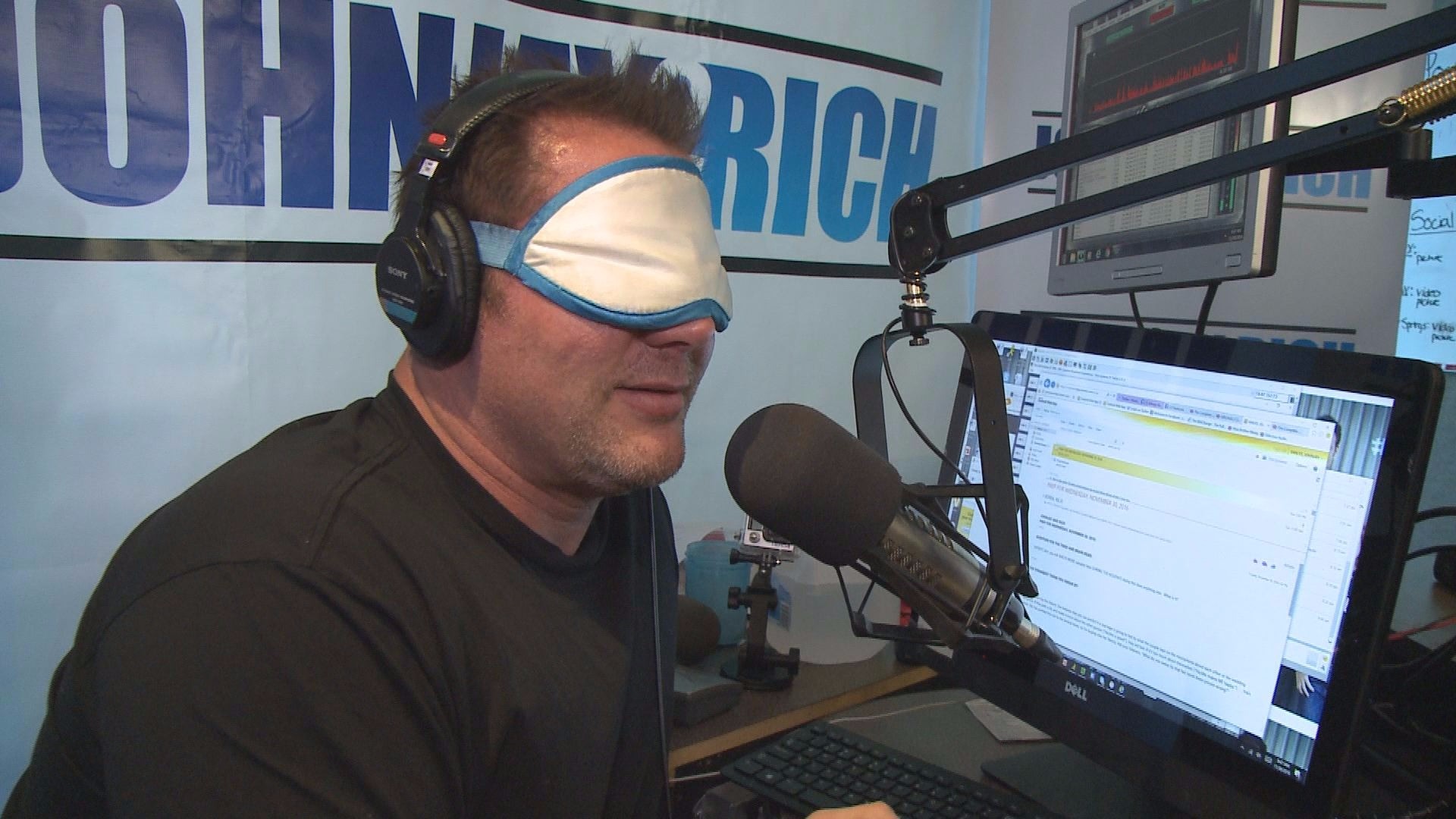 After a series of questions, Johnjay finally got to the topic of social media and Instagram stalking.
"Is it the dude I saw walking across the street the other day?" Johnjay asked with a laugh.
"I hope you're wearing the same outfit, the green camo pants you had on," he told James before taking off his blindfold, meeting James face-to-face for the first time.
And yes, James was wearing the camo pants Johnjay raved about.
"James has this life where I'm like, 'I want that life,'" Johnjay said. "You know, good looking and tan and he dresses cool."
Social media has a way of putting on the pressure to show people you have the perfect life, even if it's not real.
James, who owns his own personal training business, says that's definitely not what he's trying to do, adding that everyone has their faults.
"You never know what someone is going through," he said. "Everybody's got their problems so just be happy be you," he said.
Check out the episode of the radio show featuring the encounter: http://johnjayandrich.iheart.com/media/play/27515211/.