Most people have no idea that Arizona has a loyalty oath.
James Sallis didn't know.
Under Arizona law, every public employee at the state, county or local level -- that's tens of thousands of people -- must sign a loyalty oath to the state and the country. If they don't, they could be fired.
Sallis refused and then quit last week as an adjunct professor at Phoenix College in the middle of the semester.
His students were outraged.
"We signed up for that class for Jim Sallis," said Patricia Rudnyk, who, like many aspiring novelists, has taken Sallis' creative writing class off and on for several years. "I don't think he can be replaced."
Sallis wasn't just another instructor among the hundreds at the school.
He is an author with an international reputation as a crime novelist and poet. He taught creative writing at the school for 14 years, nurturing several prominent Arizona authors.
Robert Rosenwald, president of Poisoned Pen Press, published Sallis' best known novel -- "Drive" -- which was later made into a movie. Rosenwald says he believes Sallis is on a short list of authors in line for a Pulitzer Prize some day.
"He's in that very, very rarefied atmosphere. He's a writer's writer," Rosenwald said.
But there's one thing Sallis wouldn't write -- his own name at the bottom of the loyalty oath required of all public employees in Arizona.
"I never imagined that things like this were still around. It horrified me," Sallis said in an interview Monday.
Sallis said his department director told him the college was updating its files.
A college spokeswoman tells 12 News that 800 adjunct faculty members were asked to sign the loyalty oath, as the college updates its files ahead of an accreditation renewal next year.
READ Maricopa Community Colleges' loyalty oath
"I believe the oath is a violation of my privacy and my civil rights," Sallis said. "In fact, this loyalty oath is asking me to violate the very constitution it says I'm defending."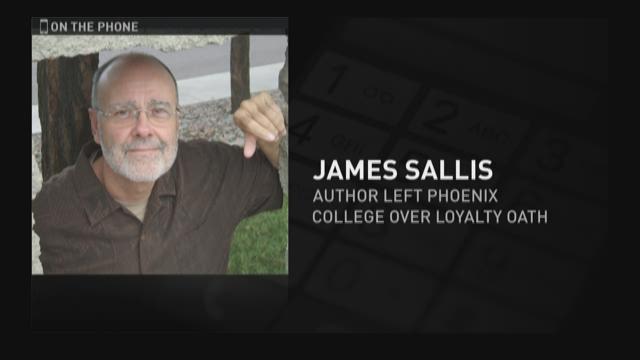 Pat Rudnyk, his student, supports him. "We fought for these rights," she said. "Don't just sign them away."
But First Amendment attorney Dan Barr of Perkins Coie in Phoenix, said Sallis and others can be coerced to sign the oath.
"Amazingly enough, yes, they can make him sign that oath," Barr said.
The oath, he said, has been around in some form since before statehood. It lost a Supreme Court challenge in the 1960's because it barred membership in the Communist Party. The law was rewritten in 2003.
Legality aside, Barr questions the purpose of a law the compels loyalty from a novelist or a janitor.
"When you have everybody employed by the state, including janitors and all sorts of people, taking the oath, it doesn't seem to make much sense," he said.
Phoenix College's interim president, Chris Haines, told Sallis' students in an email that if they didn't like the law they should contact their state legislator or Secretary of State Michele Reagan.
"We must abide by the law," Haines said.