PHOENIX - The Phoenix City Council took public comments for five hours Wednesday afternoon on approving funds for an outside review of police action outside last week's Trump rally.
In the end, the council decided to drop the review without ever putting it up to a true vote.
The scene at the council meeting was different from the typical council meeting, as activists shouted and chanted in between public comments, making their support for commenters heard.
Several commenters applauded both police and protesters for keeping the protest safe and peaceful for several hours before police began using force on the protesters.
RELATED: Trump rally protest ends with police firing pepper balls, arresting 4
Many who showed up initially in favor of the review changed their minds after they were made aware that it would be conducted by a company that Phoenix Police Chief Jeri Williams has used for reviews in the past during her time as the police chief in Oxnard, California.
Phoenix officers deployed pepper gas, OC spray and flash bangs on those protesting the president. Williams has maintained that protesters had thrown rocks, bottles and even a gas canister at officers prior to police using their own weapons to disperse the crowd.
Police officials have said they would release video confirming that protesters instigated the physical elements of confrontation, but they have yet to release it.
Four people were arrested at the protest -- two for assault on police, one for criminal damage and another for an unrelated warrant. A fifth person was arrested later in the week for assault on police.
Daireus Stokes, one of the people arrested, spoke at the meeting, saying he was beaten by police when he tried to report misconduct by an officer. He said he was taken from the jail cell after his arrest to the emergency room in an ambulance thanks to injuries suffered from police.
Arrest paperwork from police stated that Stokes brought a gun to the protest and threatened officers.
His booking photo from his arrest shows him bloodied.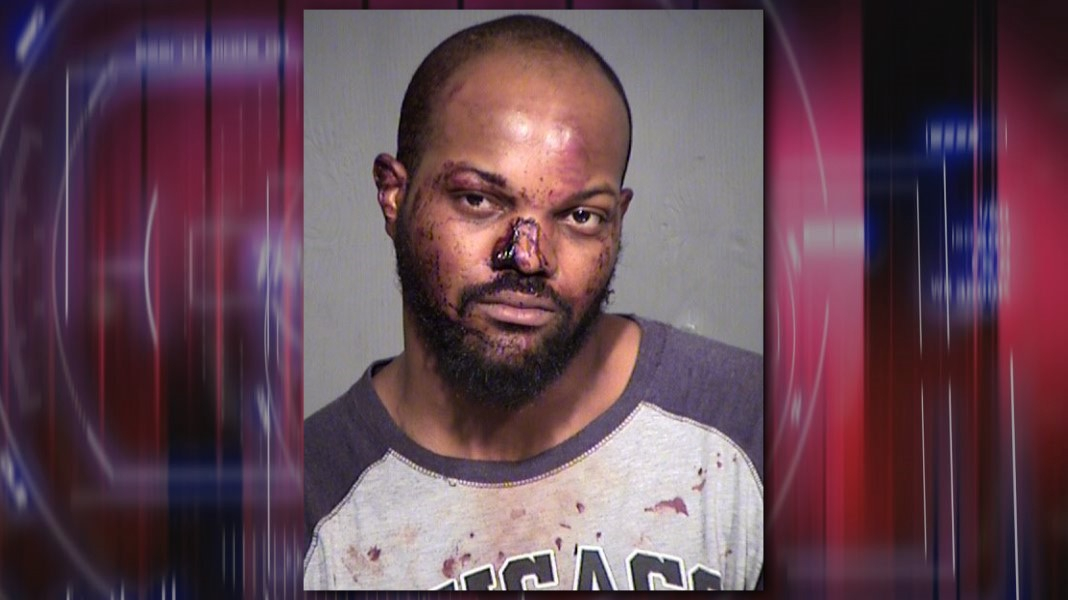 Stokes, 18, was arrested for three counts of aggravated assault on police, three counts of disorderly conduct, one count of resisting arrest and three counts of threatening and intimidating.
Phoenix fire officials said that nobody was treated for injuries related to the altercation between protesters and police, though dozens including two officers were treated for heat-related illness.
Phoenix City Manager Ed Zuercher sent a letter to Williams early this week, letting the chief know that the city intended to hire an outside firm to review police action. The city council is expected to vote on funding the review Wednesday afternoon once the public comments and discussion have ended.