A Twitter user pointed out last week that Outback Steakhouse locations in several states, including Arizona, create an interesting shape, sparking a conspiracy theory that the Australian-inspired steakhouse chain was behind something spooky.
The tweet quickly caught attention of other users and has been retweeted more than 100,000 times.
Connecting the dots of some Outback locations form a pentagram, a popular symbol in Satanism in the U.S. and some Wiccan practices.
Wtf is Outback Steakhouse planning pic.twitter.com/l1CSafkdOK

— balenci-who? aga ☭ (@eatmyaesthetics) July 27, 2017
Some Twitter users even found other cases where Outback locations perfectly form a pentagram. And by the attachments, it looks like we have an example right here in the East Valley.
This is not the first time someone has pointed out this phenomenon.
On Sept. 19, 2012, a Tumblr user noticed the Outback restaurants in the East Valley formed a star shape. The post referred to the shape as a delicious steak pentagram.
In February, however, the Outback Steakhouse located at the 101 and Chandler Road closed, altering the shape of the pentagram.
The spooky shape, albeit stretched, can still be formed by replacing the closed location with nearest open one.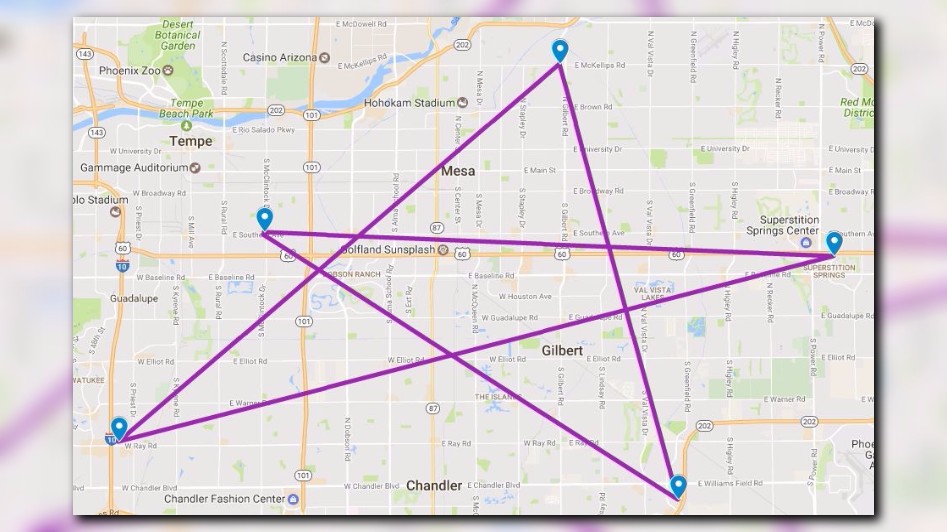 Although this is not the first time an internet user has suggested this conspiracy, Outback did issue a response for the first time. Posting a photo of the chain's signature appetizer the bloomin' onion over a map of its Tampa Bay locations.
Plot twist. pic.twitter.com/t2VEpCrWY2

— Outback Steakhouse (@Outback) July 28, 2017
So what do you really see, a pentagram or a bloomin' onion?