James Cobo already had plans the night President Trump was scheduled to speak in Phoenix. The Trump supporter says he was never planning to attend the rally.
While thousands of Trump supporters did show up to hear the president speak, it is Cobo who is getting most of the attention. Earlier in the day, he went on Facebook and engaged several Trump protesters.
"I kept posting things and they would delete them," said Cobo.
Cobo was posting in the comments section of the Protest Trump Downtown Phoenix Facebook page. He tells 12 News his girlfriend initially posted something that was also removed by the person who set up the page.
Eventually Cobo sent a post that many perceived as threatening in nature: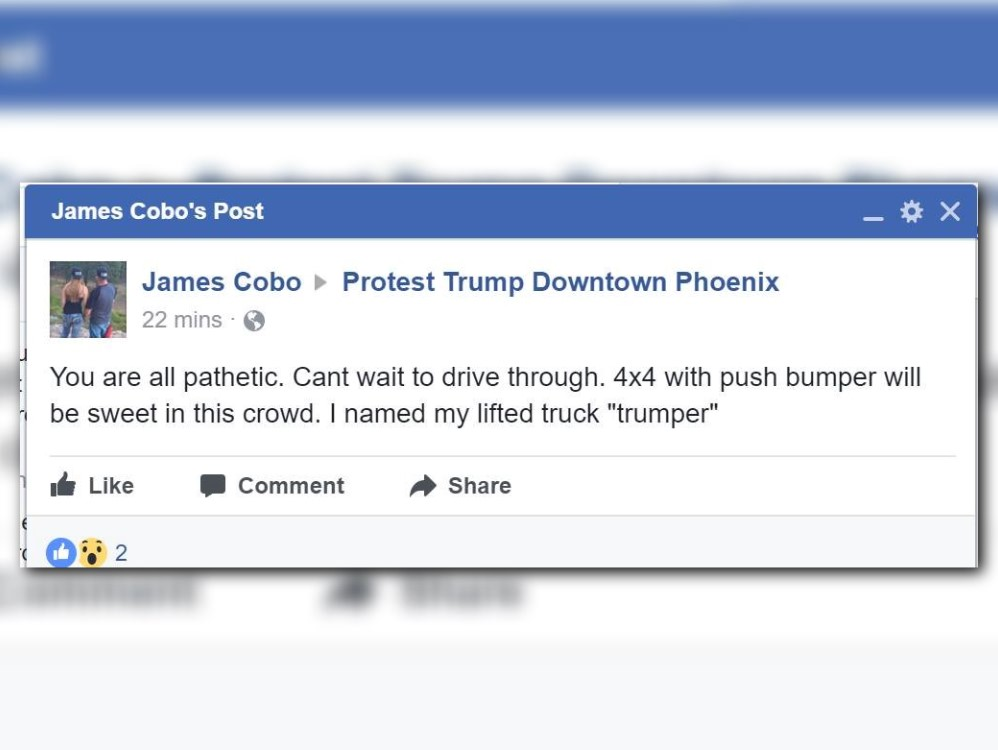 You are all pathetic. Cant wait to drive through. 4x4 with push bumper will be sweet in this crowd. I named my lifted truck "trumper"
The post was immediately shared and sparked outrage among many supporters of the Facebook page. Some people started to research Cobo and track down his address and employer.
"It was just meant to ruffle some feathers, not cause a big scene," said Cobo.
The post ended up costing Cobo his job as West Valley Tires fired him. The company sent this statement out via Facebook:
"West Valley Tires Point S wants to publicly state we do not condone or support violence or prejudice in anyway shape or form. We were recently made aware of an employee that posted outrageous posts and videos that are in no way affiliated with the positive views, values and appreciation we have for people in our community and throughout the world. That person is no longer affiliated with West Valley Tires Point S."
Cobo says he has found another job already and stands by what he posted.
"I never said I would hit a person with my vehicle or harm anybody," said Cobo.
He told 12 News he does not regret what he posted because he "did not threaten" anyone.