It was something a veterinarian, working with the Maricopa County Animal Care and Control, had never experienced before in her career.
"While [she] was performing a mercy groom, a limb physically fell off the dog," said Jose Santiago, spokesperson for MCACC.
The dog, a 2-year-old Lhasa Apso named Chance, was surrendered to MCACC by his owner on October 27. Santiago said he was in terrible shape.
Chance was so matted at the time they couldn't even tell Chance's breed or sex, Santiago said. The dog was immediately taken to the shelter's clinic where a mercy groom was performed to remove the matted hair.
Santiago said while performing the mercy groom, the vet noticed Chance had a leg injury that was infested with maggots.
Then, during the grooming, Chance's leg fell off.
"Our veterinarian did say she has never experienced anything like this before," Santiago said. "It was as if it was never attached."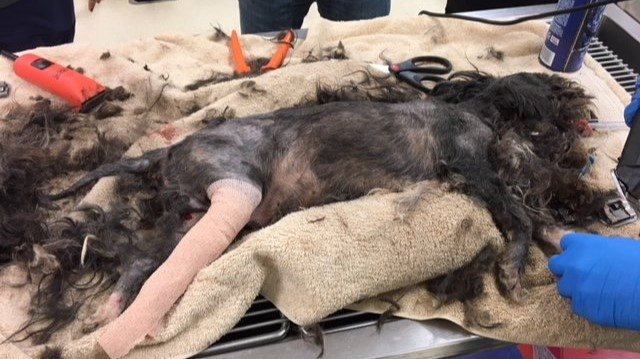 Chance is recovering after undergoing a "proper amputation" at Pet Urgent Care in Carefree, according to county officials. Two Pups Wellness Fund paid for the operation.
Santiago said Chance is up, walking and alert, but he is very timid.
"We don't exactly know what all he's been through in his very young life," Santiago said. "We were able to determine he is a 2-year-old dosa opsu."
Santiago said Chance now just needs care and the shelter is looking to place him into foster care and eventually put him up for adoption to a loving family.
According to Santiago, the shelter believes Chance may have never, since he so timid, felt love or affection before.
"A lot of times people think abuse is the physical act of hitting an animal, the physical act of starving an animal," Santiago said. "But abuse comes in all shapes and all forms. When you're talking about this is a long-haired breed dog that appear to never see any type of grooming, that is a form of neglect that leads to abuse."
Santiago said the Phoenix Police Department is investigating this case and the owner's information was taken down when he surrendered Chance to the shelter.
"We're happy to see this guy up and about, he is getting a lot of attention here at the shelter, and he will continue to get that attention," Santiago said.
Santiago said the shelter would announce when Chance is ready to be adopted.