BUCKEYE, Ariz. - Homeowners are enraged at city officials over skyrocketing water bills that the city blames on leaks.
12 News has listened to the stories and reviewed the bills of dozens of homeowners who contacted us via Facebook and email, asking for help.
RELATED: Buckeye man investigates huge spike in water bill
One homeowner shared audio of the city's water director dissing their complaints on social media.
The homeowners' stories are consistent:
-A huge spike in August, September and October bills: three, four, even five times the average.
-Water usage that would fill two or three pools a month - some in homes that don't have pools or have been empty for months.
-There's even one cluster of several homes with high bills.
Buckeye officials have not made themselves available for comment.
"Buckeye is not doing any more than they have to do," Michelle Mackillop told us via email.
She was charged almost $1,200 for two months of water -- 46,000 gallons in a single month. The average home uses 2,000 gallons of water per person per month.
Anthony Signore spoke for many we heard from: "We have actually looked at selling our house because of how expensive the water is ... I feel helpless."
And there was this from Allen Hubbard: "We were now getting a notice-to-disconnect letter because the previous months had not been paid ... This is not acceptable especially because there is no answer by [the city] or accountability."
One viewer tried to get an answer: Homeowner Alex Puckett shared with us audio of his conversation Tuesday with Buckeye Water Director Dave Nigh. Nigh dismisses people posting their complaints on social media.
"I'm not going to say that nobody had an issue. I'm not going to lie to you," Nigh told Puckett.
"But I will tell you that a lot of the social media thing that people are out there ... let's just say that people are very selective in what they put or what they don't put."
We also mapped the homes of more than dozen residents socked by high water bills, to see if there were patterns. The map showed there was a cluster in an area served till last year by a private water company that Buckeye bought.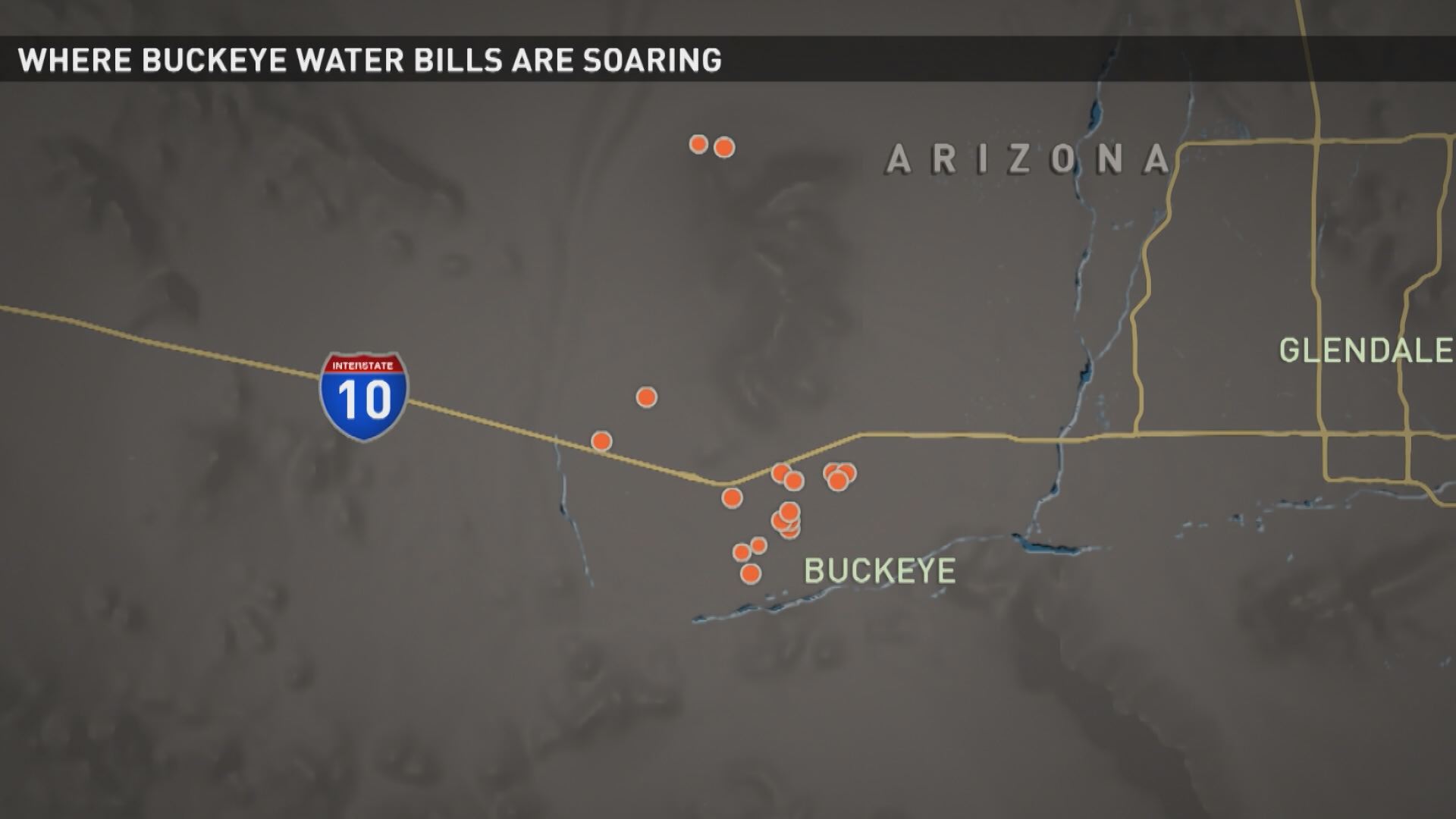 Several homeowners had questions about whether that acquisition was somehow affecting Buckeye officials' response to the high bills.
Buckeye officials' response to date has been to tell homeowners they must have a leak somewhere, but they'll have to pay up.
Other Valley cities -- like Chandler, Gilbert and Scottsdale -- will inspect a home if they suspect a leak.