Lily the cocker spaniel's hair was so matted and heavy that it weighed down her ears and legs. She had difficulty walking.
A veterinarian who cared for her said it was the worst case of neglect he'd seen in over two decades.
The Maricopa County Sheriff's Office rescued Lily from a Queen Creek home back in April. A horse was also found there and had to be euthanized.
READ: Dog with feet-long matted hair, extremely malnourished horse found at same home
Lily's story; however, has a happy ending.
Lily was adopted by Roger Kaley. According to MCSO, Kaley is a deputy who patrols the beat where she was found and rescued.
BEFORE: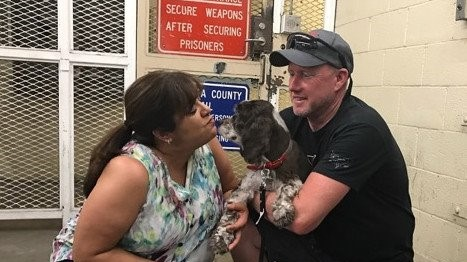 In a blog post, MCSO said this happy ending started with a Facebook post. Kaley posted Lily's story and his wife, after seeing the post, suggested they adopt Lily. They had just lost their family dog a few months ago.
The adoption was finalized in June, according to MCSO.
AFTER:
Now Lily looks like a whole different pup with her new family in her forever home.