A national advocate for alternative PTSD treatment to military veterans was posthumously inducted into the Arizona Military Veterans Hall of Fame Society on Friday.
Sgt. 1st Class Brian Mancini of Phoenix was 38 years old when he died in March. The double Purple Heart recipient used his platform as a speaker and community organizer to educate journalists, politicians and V.A. administrators about the need for alternative forms of therapy.
Each year, the Arizona Military Hall of Fame Society honors veterans who have made significant achievements to their community outside of military service. Mancini was the only veteran honored posthumously among the 23 inductees.
"Brian was beautiful soul with a compassionate heart who will continue to help veterans even though he is gone from this earth," said Jackie Williams, Brian's mother, who received the award on Brian's behalf. Mancini took his own life after what his mother described as several weeks of physical and mental pain resulting from his brain injury in the battlefield.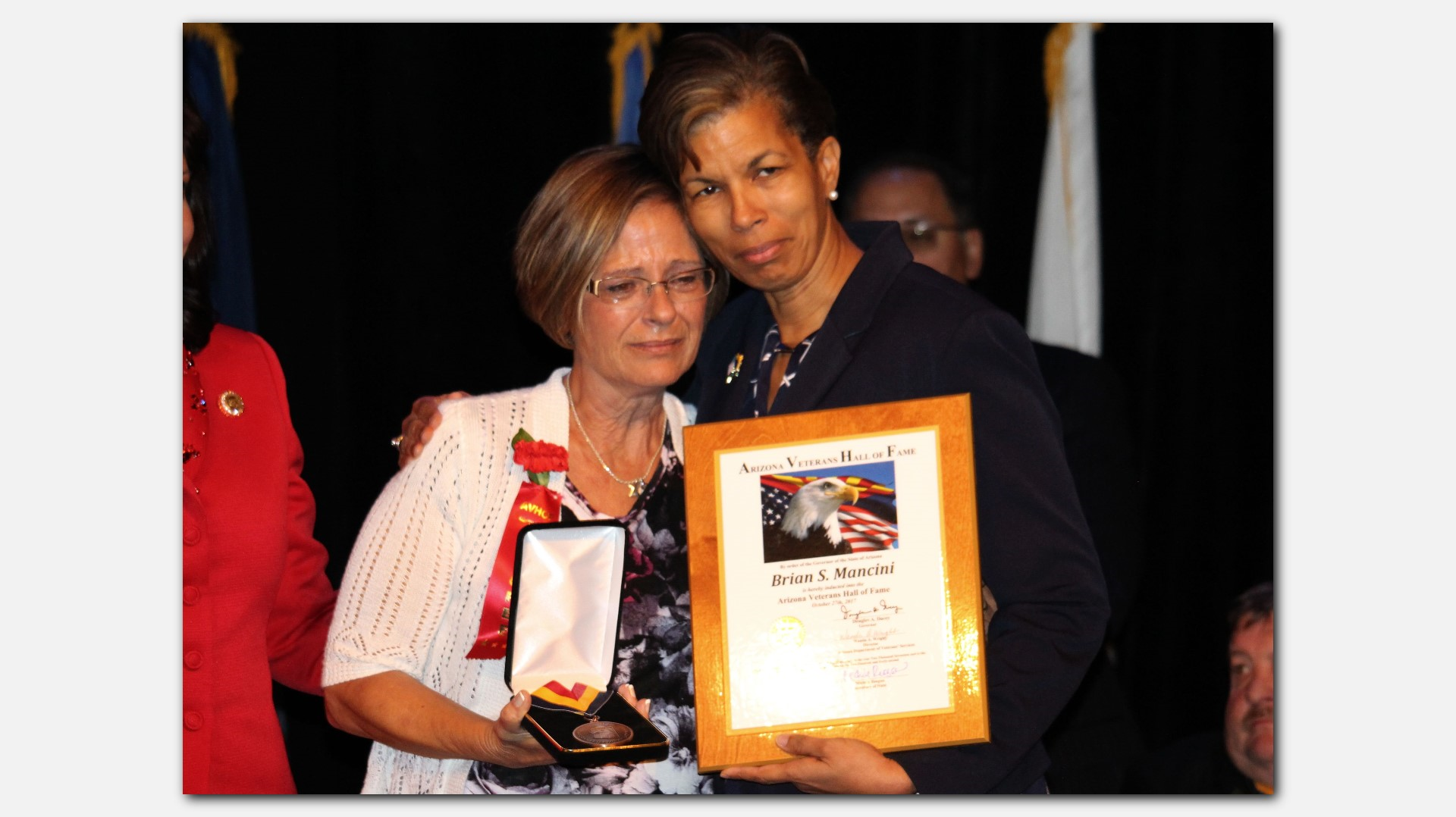 "Very few people saw him the last few weeks before his death," Williams said. "You would not have recognized him if you did."
Mancini, an Army Medic, lost his right eye and suffered skull fractures and brain damage when a roadside bomb blew up near him during a mission in Baghdad in 2007. He emerged from four years of surgeries and physical therapy to begin advocating for injured veterans around 2012.
"There was a really dark period of my life when I literally just lay on the floor in my house crying. I was just really frustrated with the lack of care. I felt betrayed… All they wanted to do was throw a lot of drugs at me, and those were having an adverse effect. They had 12 medications at one point… I finally said, 'You know what? I'm done," Mancini told The Arizona Republic in 2014.
Mancini founded the Honor House in his hometown of Phoenix, a nonprofit that brings together therapeutic resources for veterans such as yoga, Tai Chi, acupuncture, animal therapies and outdoor recreational programs. Mancini said veterans needed to know they had other treatments available to them besides just pills. He was featured on 20/20, the OWN network and other news programs around the country. He traveled to Camp Liberty, Iraq to speak to veterans about making the transition back to civilian life.
"I came up with this idea of an 'honor house' and teaching guys different ways to transition mentally, physically to school and jobs… Letting them know what local nonprofits in the community are available to provide them with resources they need," Brian said in a video on the Honor House homepage.
Veterans who attended the Hall of Fame ceremony credit Mancini for turning their lives around.
"He reached out and pulled me from the abyss," said Army Veteran Budd Gilbert. "He instilled in me a new sense of purpose."
Another veteran says Mancini introduced him to yoga as a way to cope with PTSD.
"I was at a time of my life where I just wanted to die when I met Brian. Something emanated from him. It was a confidence, a thirst of life and I didn't have that at the time," said retired Army Sgt. Stephen Bradford. "He completely changed my life."
Williams said although she will never understand fully why her son's health took such a tragic turn, she has received some answers about the severity of his brain injuries from researchers at the Center for Neuroscience and Regenerative Medicine in Rockville, MD. Brian's brain is being studied by researchers who are examining military veterans with traumatic brain injury.
"Researchers tell us they found a definite difference between a blast injury that Brian suffered and the kind of injury from a car accident," Williams said.
Williams said images of Brian's brain show damage that has surprised researchers.
"They have watched Brian in a lot of interviews, how articulate and how intelligent he seemed. After seeing the damage to his brain, one of the doctors told us he's not even sure how Bryan was even able to talk," Williams said.
Williams credits Brian's ability to endure so many years and achieve so much after his brain injury to his spiritual faith.
"Brian was a believer in Christ. That was an important part of Bryan's life and the center of his foundation," Williams said.