WILLIAMS, Ariz. – Volunteers searched for a missing Glendale teacher Thursday, but police weren't involved in the efforts for more than guidance.
Thursday, efforts focused on parts of the Kaibab National Forest surrounding Williams, including the woods surrounding Dogtown Lake. They hope the 560,000-acre Williams Ranger District holds a clue leading to Cathryn Gorospe.
Off-roading on four wheels, two wheels and on foot, friends and family of the Arrowhead Elementary School teacher looked for any sign of her. Her stepmother, Deidre Gorospe, said they wanted to get out even if law enforcement couldn't.
RELATED: Man bailed out of Flagstaff jail by missing Valley teacher arrested for fleeing Phoenix PD
"We do not want to sit around," Deidre Gorospe said.
Cathryn Gorospe was last seen in surveillance video last Friday night just after 10 p.m. bailing Charlie Malzhan out of the Coconino County Jail. Family said the two dated for a few months.
Malzhan is a convicted felon who was behind bars after an arrest in Williams last summer. On Aug. 20, 2017, he was accused of stealing his sister's car and carrying a gun cocked and loaded.
Many wondered why Cathryn paid his bond.
"I believe her Christian spirit led her to want to help people, to give everybody a chance, to see people for the good inside," the missing woman's stepmother said.
Flagstaff PD investigators said Malzhan drove from Flagstaff onto Interstate 40 through Williams, Chino Valley, Prescott, Prescott Valley, Dewey to Interstate 17 into Phoenix, Tempe, Gold Canyon, Clifton and Tucson, where they said he used Cathryn's credit cards at a mall. When Tucson police contacted him about those purchases, they said he told the officer he had permission to have Cathryn's cards.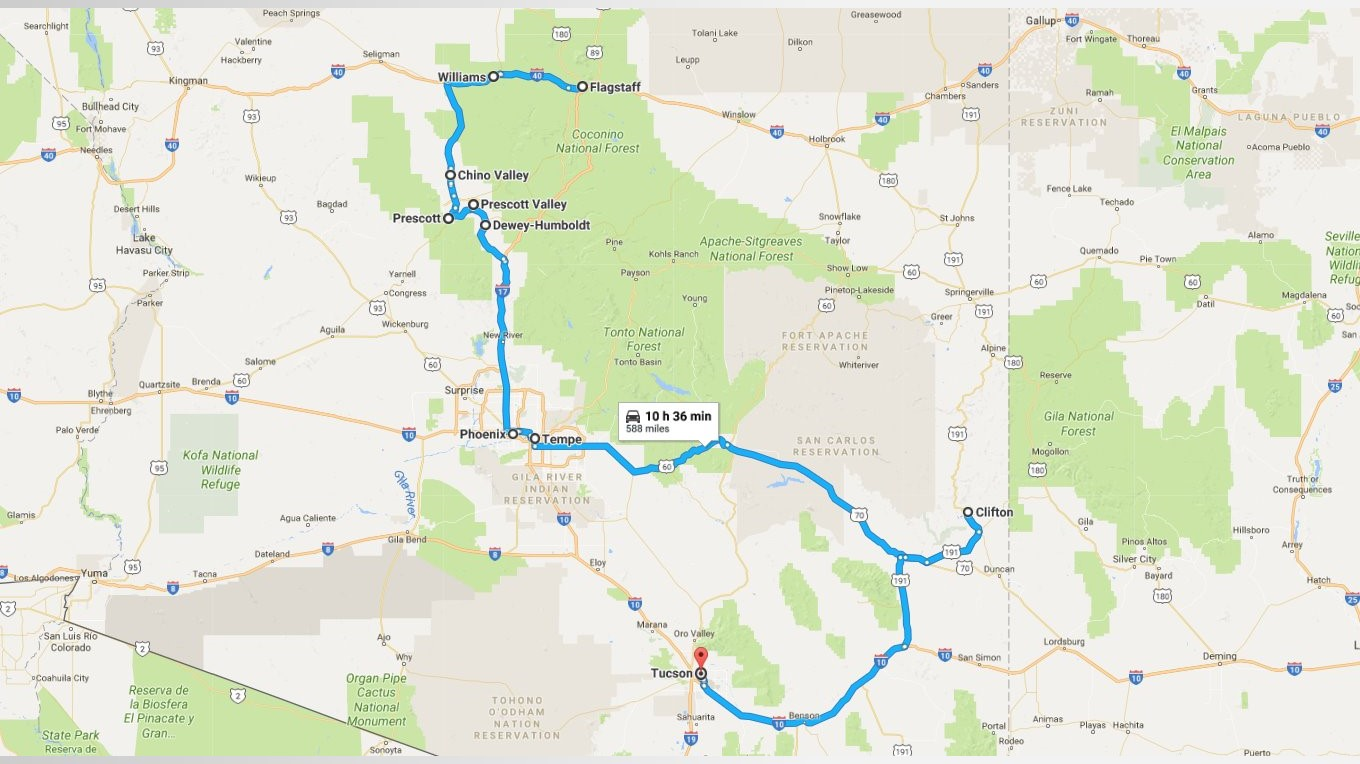 An acquaintance of Malzhan from Clifton who went with him to the Tucson mall told police parts of the bumper on Cathryn's 2010 white Toyota Rav 4 were missing, the front of the vehicle was damaged and there was blood on the center console, interior passenger door, the sunroof and visor area and on the interior driver door panel. The information allowed investigators to update the Toyota's status in the national database as a possible homicide vehicle.
Early Monday morning, Phoenix police spotted Cathryn's car. Officers said the driver, Malzhan, was arrested following a car chase and crash.
12 News walked through the woods with the missing woman's family Thursday. Her father, Raymond Gorospe, wore a bright orange vest -- the word "hope" written on the back -- as he looked in culverts, open fields and campgrounds.
"These are just good spots, according to the locals and the police agencies. These are places where somebody could drive up in a car and do whatever they want to do," Raymond Gorospe said.
The missing kindergarten teacher's father was one of about 35 people volunteering in the search Thursday. The Williams Police Department allowed them to set up a command post at its station on Route 66.
Cathryn's family said law enforcement needs more details before organizing a search. Raymond Gorospe said his family has many people ready to help as soon as there is a better idea of where to focus their efforts.
"We want to get to a point where we're looking at a much smaller area," Raymond Gorospe said.
The 44-year-old educator was known as a giving and caring "rescuer," according to her sister-in-law, Freya Gorospe. Cathryn's stepmother agreed.
Many of the family and friends helping have firefighting and law enforcement experience.
Raymond Gorospe is a retired captain and paramedic with the Los Angeles County Fire Deparment. He said it is important to take in the whole picture and look for anything unusual, hoping to see something out of place that can put them on the path to Cathryn.
"If you tunnel-vision yourself, you miss everything around you," the missing woman's father said.
The family plans to meet again with volunteers outside the Williams police station Friday at 8 a.m. to continue searching.