WARNING: This story contains graphic details that many readers will find disturbing. Reader discretion is strongly advised.
ATLANTA -- Police have released the 911 calls made by the parents of two children found dead after apparently being placed in an oven in a southwest Atlanta apartment.
Authorities have charged Lamora Williams with murder in the deaths of her two sons, 1-year-old Ja'Karter Penn and 2-year-old Ke-Yaunte Penn. According to an arrest warrant, police believe Williams put the two children in an oven and turned it on.
Williams called 911 on Friday night, Oct. 13. She claimed that she left the children with a cousin. When she returned home, she said, she found two of boys dead. A third child, a 3-year-old boy, was unharmed.
* * * * * * * * * * * * * * * * * * * * * * * * *
A partial transcript of the 911 call Williams made is as follows (Note: police stress that the call is only reflective of what the caller said and may not reflect facts):
Williams: Ma'am, I have a question, and this is a serious matter. I just left my cousin in the house with my kids. Um... She just left my kids in my house when I came back from work. And my kids, two of my kids, are dead. What do I gotta do? They dead. She left them dead in the house by themselves.
Dispatcher: OK ma'am. Where are you now?
Williams: I'm in my house. She left my door open. My baby boy -- my oldest baby boy is the only one that's, the only one that's alive. She left them in the house by themselves. She left them in here. And they knocked the stove --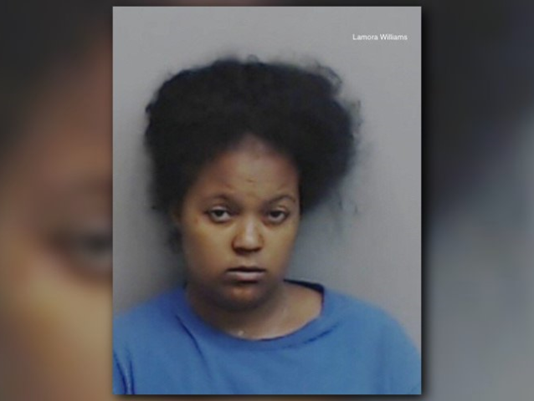 Dispatcher: OK ---
Williams: Can you listen?
Williams describes coming and seeing the stove on top of one of the children. She said the other child was also dead. The dispatcher asks for her address.
Williams: Ma'am I can't even talk. This is so serious. I'm so scared. I don't want to get locked up because I was at work.
The dispatcher continues to ask for her address.
Williams: Can you please help me? Like, can you please tell me, like, I don't want to get locked up. I just came home from work. I just came home from work. I just came home from work.
Dispatcher: Ma'am, the first thing I need to do is to get some help out there to you. I understand that you're upset and you're scared.
Williams: They're sitting here dead and it's like, it's no way in the [expletive] she left my babies dead. And I don't have no way to reach her.
The dispatcher continues to ask for the address. Williams tells her. The dispatcher gets EMS on the phone. Williams gives the EMS operator her number and again describes the scene at the home.
Williams: Ain't no telling how long they been in this house.
Williams provides a graphic description of the scene. The EMS operator confirms that police and fire crews are en route to the house.
Williams: Please help me, though. Please.
EMS operator: Alright ma'am, I'm en route. I'm en route.
Willliams: OK, thank you so much.
Williams hangs up
* * * * * * * * * * * * * * * * * * * * * * * * *
That same night, 911 operators also received a call from the children's father, Jameel Penn.
Penn: Hey, I just received a call from my child's mother that two of my youngest, two dead babies, my sons are dead in an apartment.
The dispatcher asks him to repeat the information.
Penn: I just received a call that two of my kids are dead inside of an apartment.
Dispatcher: OK, did she call 911? What's the address?
Penn: No, she didn't call 911. She called me, and she video-called me and showed me this and I seen it. And I think they are really dead.
Penn gives the dispatchers the address where the children are, and gives out his information.
Penn: I want to know if they actually...I want to know if they actually dead. Please, please give me a call. Please give me a call back as soon as possible.
Dispatchers assure Penn that units are headed to the apartment
RELATED | Father of two dead children holding tight to only remaining son
* * * * * * * * * * * * * * * * * * * * * * * * *
When police arrived at the apartment, they said Williams' cousin was nowhere to be found. Investigators quickly began to suspect that Williams wasn't telling the truth.
"At this time, investigators do not believe the children's mother left them with a caregiver," Atlanta Police Sgt. John Chafee said at the time. "Investigators have developed probable cause to charge the mother with two counts of murder."
RELATED | Neighbors, family: Mother of dead children would leave them alone often
Williams was arrested and charged with two counts of murder as well as cruelty to children in the first degree.
According to the arrest warrant, the crimes happened between midnight Oct. 12 and 11 p.m. Oct. 13 -- a span of nearly two days.
On Monday, Williams waived her first court appearance and was denied bond.
* * * * * * * * * * * * * * * * * * * * * * * * *
Funeral services for the young boys will be held Saturday, Oct. 21 at West Hunter Street Baptist Church at 11 a.m. It will be open to the public.
Willie Watkins Funeral Home and South View Cemetery are donating their services to give the baby boys a proper burial.
Watkins said he spoke the surviving 3-year-old boy, Jameel Penn Jr., and gave him advice on how to process everything. He told Jameel that when someone asks him where his brothers are to tell them they're in a better place.
He said tell them, "they're in heaven and I'll see them one day again."