"It was not an easy decision, or one they took lightly," the Maricopa County Animal Care & Control wrote on Facebook as it told the story of Rosko.
According to MCACC, Rosko's family was forced to surrender him in June to its Mesa shelter. His dad, Michael, and the rest of the family were moving out of state and were unable to take Rosko with them.
A hard decision for any family to make. But this heartbreaking story has a happy ending.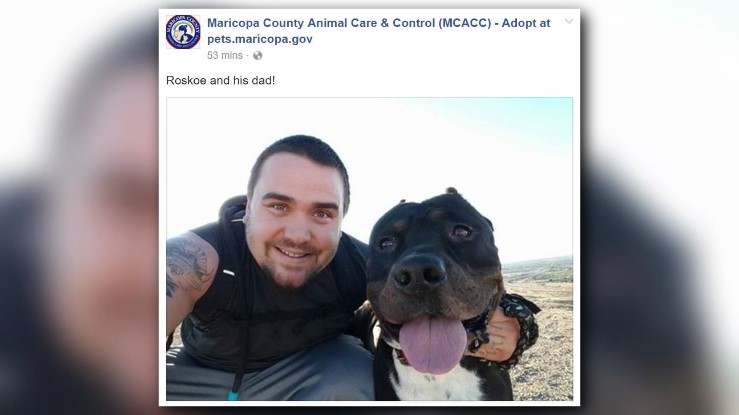 MCACC said it received a call from Michael on Saturday saying he was living in Oregon and found a place that would let him keep Rosko.
"Michael called to let us know he was getting in his car and preparing to drive 18 hours to come get his beloved pet," MCACC wrote on Facebook.
Then MCACC remembered a transporting flight by Wings of Rescue was taking animals to the northwest and would be making a stop in Oregon.
"I'm getting all excited because I'm planning this drive down to Arizona to go pick him up, and they turn around and they tell me they can fly him up there," Michael said. "The whole thing was a big surprise."
So 80 small dogs and cats were joined on an flight to the northwest by a 75-pound pit bull mix on his way to what turned out to be an emotional, tail-wagging reunion for everyone.